Its Thursday and I have some fun and exciting news to share
Firstly I have to share that I have a new fur baby
I can not be long without a fur baby to cuddle...
I do have 2 Adult male Guinea pigs but that are brothers and don't like cuddles
Meet Pippin but we are calling her Pip as she is sooooo small
to give you an idea of her size she only weighs 118g = grams
Here she is with my son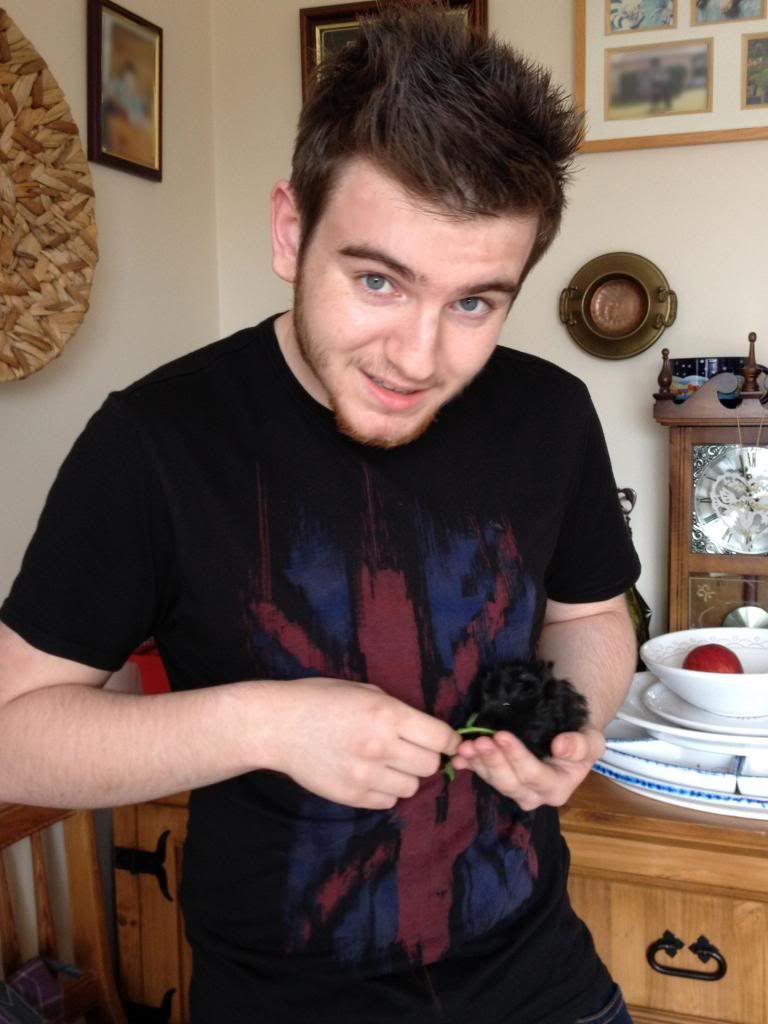 Now on to the challenge at As You Like It...
its our 27th challenge
AND I have some exciting NEWS,
we have an awesome new DT member joining us!
please come say hello and check out her style
Wilma
Welcome to the team hunny!
The sponsor of this challenge is
Shape EZ
And the theme is
your
Favourite Fur or Feathers and explain why!
You MUST explain WHY it is your favourite to be in with a chance of winning a prize
My Favourite definitely has to be fur!
I have many pets of the fur and feather variety but the ones I can cuddle are the fur ones as you have seen above!
Here are some challenges I am playing with this card:
Clear It Out
-
Challenge: Your Style - I am loving C&S Style - Your Favourite Product - Stickles or Glossy
Accents
Now I also have some quite scary news too!
I
am going to a wedding in a couple of weeks and had to go shopping
as the only wedding outfit I have is now far to big... as it is a size 18 dress.... I went shopping Bank Holiday Monday and after several hours of looking and trying I found the perfect dress.. YAY!
Size 12!! yippeee!
But here is the scary news...!
I also tried on about 7 shawl cardigans 6 were ones I had picked up because of the colours... blue, purple, cream, lime, red, yellow... all of which looked ok but not perfect with the dress.. so the very kind (or so I thought) sales assistant offered to go get 2 more which I must of missed....!
they were both PINK!!!!!!!!!!!!!! ARGH!
one Bright pink and I was not EVEN gonna try!!!
the other I hovered over pondering the risk... Ok so I will try but I am not getting it just curious to see what it looked like.. trying to tell myself its ok I am not gonna like it anyway...
the Scary part was I was drawn to saying I quite like it and upon showing my husband the dress and cardigan he loved both and said he would buy them for me as they were the perfect combo!
OMG!!!!!!!!!! me in pink! WHAT?
I think I must be ill...
and the card I have made is blinking pink too!
WHATS HAPPENING TO ME?????
what is even more scary is I have to buy shoes and a bag to match!
Ekkk!
hugs me xx