LONG post! thehehe
Well that's nothing new hu!
I have some pictures to share but if your just here for the Top Tip Tuesday Challenge post then Here it is today I will blog about that first!
This fortnights Theme at Top Tip Tuesday Challenge is All about Circles
Our host is the lovely Tammy Louise and you just HAVE to stop by and see the Challenge this week! TAMMY made me a CUPCAKE! yay!!
Thanks Tammy!
And our sponsors are:
NEW

Sponso

r yay!
And Fred She Said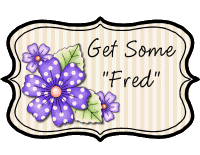 And Ooh La La Creations
Now we have been lucky enough to have some Images from Redonkulous Designs
I went to have a Peek and saw this CUTE image called Girl Ribbit which was a Cute image of a girl wearing a Frog Blacnket you know the ones with the frog head and you can put the arms in! for Kids... Well I was like OH cool shame there is not a Boy one that would be a great card for my friends son! so I contacted Sheryl the owner and illustrator and asked if possible could she make the image a boy and she said SURE!! and here he is!

Ribbit Frog Boy isn't he the Darn cutest!
So for my card I decided to print him a few times and once on the some designer papers something I have had in my stash for ages and used on Mondays Incy Wincy card.... so I just HAD to use some more of it! The Sentiment is one I designed on my PC, and I have added glossy accents to the boys eyes and also the frogs eyes too!
For my TIP: To add some dimension without adding foam pads print your image a few times and just stack on onto of the other, this way you have the dimension without the height.
Here are some Challenges I am also playing:
Joanna Sheen Challenge - Going Round in Circles
Creative Stamp Friends - Paper Piecing or colouring with paper
New* ABC Challenge - 2 of something - 2 card candy
Cupcakes craftroom - Lots of layers
The Crafty Pad - Paper Piecing
Whoopsi Daisy - Use Up Your Stash – Old papers see above
The Squirrel & the Fox -Kids or Babies
SO now for my Pictures
As some of you know I did a water colours art course at the shop where I work last year and recently finished a couple of paintings! one of which you have seen... another one you will see soon, that I showed you the sneak peek of...
so today I am sharing my paint palette and a picture that I have started...
So plain just the sky, once dry several hours to dry 100% in between layers
You can not see the sky here because of the camera flash sorry its was pouring down outside :(
I have to wait several hours for each layer to dry as it will end up with big fat splodges and well look more rubbish than it does already haha! This is where I am up to now!
So what else fills my days off
well I like to do a bit of baking too! but shush! don't tell my Son I hide Banana in the Chocolate muffins!
tehhehee YUM!
Also I make my own bread as some of you already know but I also make Breakfast Muffins too!
Now this first Picture below is of a Teapot cozie in a Book
that we stock at the shop where I work (Penrith Crafts)
Here's the front cover
My Boss Sandra is an awesome Knitter and she is Knitting the cozie but asked me if I would make the Crochet flowers as it really hurts her hand to crochet soooooo
HERE are my Flowers for the Tea pot!
I also learn now to change colours so that they are like violets!
I'm so pleased with them I think I will be making some for Cards too!
and Lastly its my BIRTHDAY today! YAY!!
I have decided I am not getting any older and I am now travelling in numbers reverse!
so I am 41 today! haha! and next year I will be 40 again! yay!!
and don't forget to come and join us at
hugs me x