Today is we have a New challenge at Incy Wincy and I have NOOOOOOO idea where last week went too! Ekkkk! and then Naughty Mr Blogger has been VERY naughty today and not posted my schedule post! so I came to post if and it disappeared into cyber space! ARGH!
So I am having to re write my post and have had a heck of a morning, A couple of my draws in one of my crafting cabinets had collapsed and Hubby offered to fix them and he had the cheek to say that they were Sagging under the weight! tehehehhehehee!
Sadly I had to take everything out of them! and guess where it got put???
BUT.......... The Good news is the draws are now fixed! YAY!! thanks hubby!! :)
Sooo here comes the challenge for this weeks Incy Wincy Challenge
the Theme is blue and black with a sentiment for a boy or a man.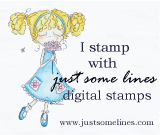 So here is the image I used, Party Dog as you can see the image has 3 balloons
But as with Rubber stamps I have digi masked so add more balloons and added the word Birthday with my letter stamps, also added glossy accents. As the challenge is blue and black I ran a couple of scraps of card through the cuttlebug and then distressed them to add texture then distressed all the edges and also the word boy to another scrap and added the sentiment circle,
The Challenge I'm joining is with are:
Have a great day hugs me x