SNOW here YUKKK!!! Not fair! I want Spring back!
Yes I love making Christmas cards and yes some have snow on them but COME on! give me the warm sunny springs days back!!
We have a new Challenge this fortnight at ABC Christmas challenge.
our host is the fabulous Lacey
and we have 2 awesome sponsors for you this time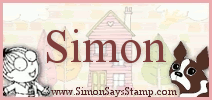 For my card I have to admit I had a bit of a struggle I had a HUGE rummage and could not find any gold card or charms or anything other than my gold sakura pen! I had another rummage remembering I had some mirror card... nope could not find that either but............ Happy FACE I found some gold metal
hmmmmm How the heck am I gonna make that stick I thought to myself....?
well as I have a spare needle I use for sewing on card, its a denim one I thought I would give the metal a try its only thin craft metal so nothing to lose..
So I embossed the metal first and cut the things I wanted to sew and set to at my lovely Singer sewing machine. this is an old 501 that my Mum re vamped for me! and I have had it a long time when my son was about 2 my parents found me a cabinet for it, sanded it and it fit like a dream!
Anyway here is a closer look at my card
I have had fun sewing and did some ribbon ruffles too!
The image is a Whiff of Joy and his Name is Henry isn't he the cutest!! I LOVE Henry he is my favourite!
I have coloured in Distress re inkers and his had trimmings I added Flock.
The Challenge I'm joining is with are:
Have a great day hugs me x