Happy Sunday hope your having a great weekend?
We have a new challenge for you this week at Pile It On is....
St. Patrick's Day and/or Shades of Green…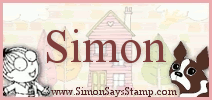 I must admit I was a bit stumped! but then I had an idea…! what you would call a light bulb moment….
do you remember my heart card with the sewn on hearts and the one with the butterflies?
HERE
Well I decided to give it a try by making a 4 leaf clover… Shamrock. with the same idea..
What do ya think? and you wanna know something reallllly funny the papers I used for the clover (Shamrock) are old Christmas paper scraps, tehehehehehee, The green thread for the sewing was right at the bottom of my sewing box, no idea how long that has been hiding there! thehehheee but it was just the perfect colour… 3 Gems are new, and the Sentiment says Be Lucky and I printed it direct onto the card stock. I had fun sewing this one, I did around the edge and then got a bit carried away with the stem tehehhehee :0)
Here are the Challenge I am playing-