Well good morning friends
We are at the letter E on the ABC Christmas Challenge this week and boy are the weeks flying past fast! Our fabulous Host for our Challenge is Carissa and she has chosen a lovely Theme for us.
E is for Evergreen Challenge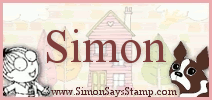 I have to admit I thought long and hard about this challenge and what kind of card to make and after steam coming from my ears and a danger of damaging what brain I do have came up with a big fat zero! theheheheee well other that the fact that Evergreen just means Evergreen stays Green all year round.
So I thought I would use Holly and while blog hopping I came around a lovely blog and card that really inspired me to use some papers for my card, Sooooo Here is Heathers Blog and as you can see there she found this design too! and re created it so thank Heather for the link also to the original site where you found it also which you can see here.
I have also added Heathers card to my pinterest board so you can

so you can find it and the link there after this post has dropped down my blog.
Soooo then on to my card, I have used papers from the Bo Bunny Father Christmas Collection, I have used 3 different papers one of which is a holly pattern. so that along with the colour green is my take on our challenge which as I said above is Evergreen.
I used some sticky back A4 paper to stick the main pieces of the design and added some glamour dust to the ½ Cm edge I left on show to add some sparkle, I also added a few placed gems. this was a fun card to make and I will be making some more of these for sure!
Challenges I am playing along with are:
Creative Mondays - Anything Goes.
PLEASE NOTE!! I am really struggling with blogs that have word verification
pleaseeeeeeee turn it off I am having to miss leaving some of you comments and that makes me sad :(
So over to you hope to see you playing along this week with us on the ABC Christmas Challenge, and don't forget to check out the rest of my talented teams creations too!
Happy Wednesday hugs Samantha :0)