Top Tip Tuesday this week the theme is Mystical, Magical, Fantasy and our host this time is Elaine, She has a fabby Tutorial for you…
We have 3 awesome sponsors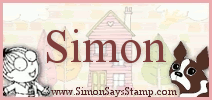 And I have to tell you that you really must come and see all the awesome Designers as we have 4 guest Designers as well at the fabulous Dt too!
The image I have had the pleasure of playing with is Barry Angel 4 Isn't he the cutest!
I have coloured Barry with Distress inks and also added some glossy accents to his nose, feet and stars, the Sentiment is one I have made on my PC and I have added a brad in the centre too! HERE is the sentiment if you want to use it its my gift to you! but it would be great if you link to the page so other people can share the freebie too!…. would love to see your card.
I really love the
Seems a little Sketchy
Sketch so I have used that as a starting point for my card too! I have flipped the sketch as I wanted the sentiment above the image.
Ohhh and I saw that Play Date Cafe have a yummi Colour Palette so just had to play that too!
Here are the other fabby challenges that inspired me to play:
Happy Tuesday all and Don't forget to check out our Top Tip Tuesday and my DT buddies projects.