Hope you have all had a lovely Christmas?
This weeks challenge at Top Tip Tuesday is our last challenge of 2011
But…… is mega easy and the Team have made some beautiful creations to help inspire you…
The challenge is ANYTHING GOES
It doesn't have to be Christmas either! any remember we will be back soon in 2012 for the 1st of our New challenges so keep your eyes peeled for that….
We have some News at Top Tip Tuesday this week!
From next week the 3rd January, Our Challenges will be fortnightly! So you will have more time to join in and also so we can do a mid-way feature post, that post will be for a few eye catching creations that we think you should see! so many times we see creations and wonder if others have spotted them too! Also last week we started posting the winners on the side bar as so many wonderful prizes are being missed!! so make sure you look there for the winners.
Taking of winners have a peek at this weeks sponsors!! 4 of them!! woooo hooooo!
Here are the fabulous sponsors this time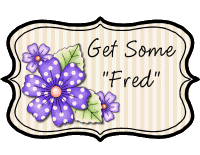 So then this weeks challenge is ANYTHING GOES!! and that means absolutely ANYTHING. This card is very simple and quite quick to make.. 3 layers..2 score lines 3 punched snowflakes, 3 pearls, a tiny sentiment and some stickles for plenty of sparkle.