Well its amazing how the weeks just zip past as you get older I remember being a kid and Christmas seemed to take years to come… now it just seems like Christmas was a matter of weeks ago! EKKK!! with that in mind I hope you will join us for our Challenge this time at
ABC Christmas Challenge
…
Our sponsors this time are:
The lovely Heidi at
Simon Says Stamp
are offering one lucky entrant a fantastic $15 voucher to spend in her store.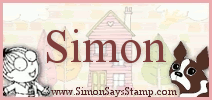 and
Bugaboo
a brand new sponsor for the ABC Christmas challenge and they are offering an awesome 7 yes 7 digi's prize.
If thats not enough for ya! once you have finished here head over to the challenge and have a read there is so much going on this week! we are swapping DT buddies with Bugaboo and we also have 2 ladies joining us that won on the hop and
Feline Playful
too!
So then to the Challenge this time
U for Un used Stash
… we all like to hoard stash right?
well Hmmm not me it seems I spent several hours rummaging through my craft stash and struggled to find anything I had not opened or used lol…. But… wait! what's this I found…
An unopened poinsettia dies, a pack of Craftwork cards Christmas sentiments and some red divine twine I have been saving since I won it a few weeks ago…
Using an image I won but had not used yet..
Ava Christmas - mistletoe fairy
from
Bugaboo
isn't she the cutest..
SO here is my card
I have coloured her with distress inks and used a white gel pen for stitching and highlights
the poinsettia are out for low shine mirror card and I have used stickles ermmmmmmmmm everywhere! hhaha :0)
Challenges I am joining for this card are:
happy Wednesday everyone xx