Good Morning and happy ABC Christmas Challenge day
What an awesome fortnight we had last challenge a fantastical 110 entries!
Wooo hooooo!!! AWESOME!
Sure hope you all play along this week too!

It's my turn
to host the challenge and I have a fun one I think I hope that will help you prepare for Christmas and get you thinking I have picked a challenge that will also started you thinking about your presents and wrapping for Christmas!
Soooo this fortnight's challenge is:
P is for
Christmas Presents, Christmas Packaging
with a Inspiration photo.
Please make a gift
or a gift box
Gift bag or Gift card or Tag!
using this photo for inspiration.
We have 2 fabulous sponsors this week so that is double the prize fun!
Simon Says Stamp A $15 voucher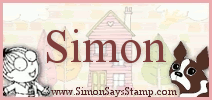 Stamp Fairy

-3 digital images of the winner's choice.
I decided a that a Bracelet would be a fun present for one of my friends daughters as girls love these kinds of things so I used some memory wire so there are no catches to have to fiddle with...and also this was a great way to use up all the odds and ends of beads.
The Gift bag is from 1 sheet of A4 card and stamped in versamark and distress ink.
I have coloured this Cute Stamp Fairy image from the winter buttons collection
also coloured with distress inks.

and on the back punches and tied with this yummi star ribbon, and a cut done cuttlebug snowflake using some scraps from my scrap draw
and a single faux card candy button.

I reduced the size of the gift bag as I felt it was to tall for my project so this stands only 3½ inches tall :0)

Hope you will come and play this week there are load of options as to what you could make even a tag....
Here are a few challenges that also inspired me this week
You just have to come play this week! its only about 20 weeks to Christmas!
EKKKK!!
My Team mates and some of the Stamp Fairy Team have made Awesome projects DON'T miss those! there WOW!!
and don't forget that we are a Christmas challenge so you need to make a Christmas Project with our theme...
challenge closes Tuesday 16th 10pm GMT