Well I am just posting this before shooting off to work we have had the shop in bits as Sandra bought a second-hand pigeon hole unit to accommodate some new wool! GREAT! I hear you say! Hmmmmm Yes great BUT!!!! and here is the But!………… We have had to totally re arrange the WHOLE shop! to fit it in! now picture the sense! when I say re arrange I mean MOVE everything! yup everything….. Muscles I did not know I had ache! We decided to stay late last night and crack on but we have not finished yet either….!
Anyway! thanks for stopping by to visit my blog once again and thank you also for all the lovely comments you leave!
Today is Wednesday and we have a new challenge for you over at ABC Christmas Challenge And this challenge its the turn of one of our newest Design Team Members Heidi to host the Challenge…. So be sure to say hi when your linking your card to the challenge blog!…… SO then what is the challenge?
N is for No Nonsense
sounds easy right?
To make a plain no frills card. One that does not use any design paper or fuss on….. we have two sponsors for this weeks challenge so that is 2 winners!!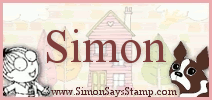 and we have plenty in the way of inspiration too!
This lovely Karens doodles image Herbert Christmas which was kindly offered for the DT to make some samples….
So for my No Nonsense, No Frills Christmas this is what I used:
Green & red vintage core colour card
white gel pen for faux stitching, 2 card candies, and some red stitched ribbon and the image!
I added some paper pricking and the images is coloured using distress inks and a white gel pen.
That's it Thanks for looking
A few challenges I would like to play along with are:
Happy Wednesday xx