Over at ABC Christmas Challenge we are up to the letter L
and Today the Challenge is L for Love with some colour fun

So use these colours on your project too!
We have 2 fabulous sponsors this week
Simon Says Stamp A $15 voucher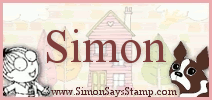 and the brilliant
Stamp Fairy
-3 digital images of the winner's choice.
Also we have some of my Stamp Fairy teamies Guest Designing too!
and Annette has a freebie sentiment on her blog, thanks hunny!
Ohhh and while we are talking about love today we are spreading some ABC Challenge love and have asked the 3 Guest designers we had for May to stay as full time Designers and they said YES!!!!! wooooo hooooo!!! so you get their inspiration too!
Welcome Carol,
Heidi
& Miria
Great to have you on our Team!!
Ok ok so my card for the ABC Challenge is
this one!
coloured with distress ink, embossed I also stamped the hero arts magical background in the boarder I made, some ribbon and a heart silver pin, and some you guessed it Core colour card too, and a stamped mini sentiment.
Stamp-N-Doodle - more than 1 die cut/punch plus circles - 2 scalloped and a plain circle.
Please visit the other DT girls and also the Guest's of ABC Christmas Challenge too!