Hi Everyone,
The last 2 weeks went sooooo quick I have no idea where they went
do you?
This week at
Tip Top Tuesday Challenge
its my turn to do the tutorial
and as its for the challenge I am a little nervous to to say the least!
OK so then
The challenge I am setting you is

"Show me those Buttons"
Use 3 or more buttons on your project!
Here is my finished project,
I have made my own backing paper from Kraft a butterfly stamp and a penny black script stamp and distress inks the flower and alter the buttons is apart of the tutorial on the Top Tip challenge blog.



and another view so you can see the depth of the flower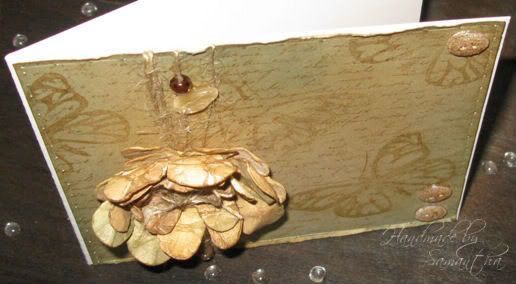 I had so much fun doing this card I have found a couple of challenges to play along with
Ok so I am off to my painting class now Happy Tuesday everyone!
and don't forget to stop by my team mates blog as they love your comments too!
hugs Samantha :0)