Hand cut heart tutorial - for my card - see below...
1. Cut a circle either with a die, punch or scissor.
2. fold in half
3.Draw top part of heart using ½ way round a bottle.
4. Use a clear block or see through rules and draw straight line joining the top of heart.
5. Cut out heart.
6. Fold another piece of card in ½ and draw round the first heart this is your template.
7. Draw about 5mm in from edge of your first heart draw and cut out.
8. You should now have 2 heart templates.
NB: You can make the hearts what ever size you want just find something round to draw around.
Altered clear button
1. Ink clear button with white ink.
Heat set, repeat 1 & 2
3. Repeat 1 & 2 again.
4. With distress inks gently tap with ink tool - do not rub.
5. Ink edges.
6. Heat set and repeat 4,5 & 6
7. Short sharp spray with spray adhesive.
8. Add some glamour dust - Leave to dry (do not heat set)
Using the 2 above mini tutorials to make a card

No punch flower tutorial with Distress button centre.
1. Draw with a ball tool around your heart templates, that you made from the hand cut heart tutorial
you need 6 small & 6 large,
2. Cut them out.
3. Spray with a mist of water.
4. screw up hearts gentle.
5. Round in your palms, gently un roll and gently heat dry.
6. Distress hearts with your colour choice.
7. With a large glue dot lay down hearts to glue. in random pattern so petals over lap.
8. Crumple up your whole flower to get a grunge flower look.
9. Add a raiser foam to the centre.
10. Add glossy accents on top
11. Add your button, I added some button twine to my button.
12. Add your buttons and flower to your card.
Here is my finished project,
I have added 3 more distressed buttons to the card.
and another view so you can see the depth of the flower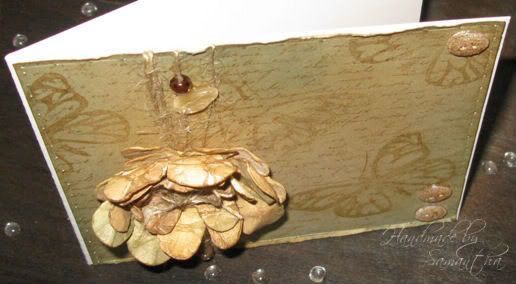 Hope you have had fun with those tutorials
hugs Samantha :0)