Well you have a week left to enter our 'C is for Clean & Simple' challenge over on the
ABC Christmas Challenge
blog, and myself and some of the team thought we'd have another go with Helen's sketch,
Now I have Dorte to blame for the idea of making another card and well I should thank her rather than blame her as I now have 2 more cards as instead of making 1 more I made 2 more!
We have 2 sponsors this time so you have more chances of winning too!
Simon Says Stamp
-
$15 shopping Voucher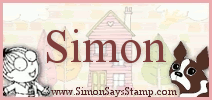 and
Stamp Fairy
- 3 digital images of the winner's choice.
So as I said Helen's Sketch is defiantly a keeper! Here's a reminder of the sketch:
Card 1 -
I used a stamp that I bought at the first Harrogate show I went to ohhhh when I first started crafting... I think I have only used this stamp 3 times maximum... I think its one of those stamps you buy because the person demonstrates it and you love it and then you get it home and think what the heck did I buy that for! te e ehehehee.. its called 'O little town' but sorry I can not remember who made it. Anyway! I seem to be as Helen put it "having an inky time at the moment" tehehehe and I have used distress inks as I love them to under colour before stamping then highlighted the little houses with a white glaze pen, then added some stickles... a few robin next gems and some papers and cuttlebug embossed section and some button twine...
Card 2 -
I have used a this cute Henry Ice Skating whiff of joy image and guess what I used to colour it? tehehee yup! distress inks lol I have used some papers from little yellow bicycle that I got from Simon Says Stamp when I won their challenge a while back.......
I'm also entering these cards into the following challenges:
Ok guys its over to you! I really hope you all hop on over to
ABC Christmas Challenge
and play along with us
hugs Samantha :0)