C is for Clean & Simple
We have the lovely Helen as our host this time
and she has created a nice sketch for us follow:
I really love this Sketch and think I will be using this one a lot this year...
Thanks Helen, but for now here is the card I have made for our C&S challenge.
I decided to go with a brown monochromatic and started off with faux stitching on all edges, then added some swirls and stamped snowflakes in distress inks, used some magic tape and distressed over it to give a stencilled effect leaving the white underneath, Stamped the PB Merry Christmas text in the style of the line on the sketch... Only having 3 pieces of card all started white with the cute PB mouse that is an old favourite of mine stamped on the circle. The ink I used was Vintage photo, I have only added a hint of aged mahogany to his hat and some dry's clear glitter glue and glamour dust, Then a fine spray of perfect pearls in water to the whole card at the end.
We have 2 yes 2 fantastic sponsors for this challenge too: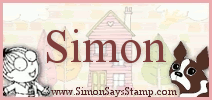 and
My lovely DT buddies have made some awesome cards, along with Sharon from Stamp Fairy as a Guest Designer, So please check their blogs too!
We're using a text linky tool once again as we can no longer get the lovely photo linky for free..
Being that Helen and I run this challenge blog just for fun,
We can't afford to pay a subscription........but we will get a nice surprise when we come and visit your blogs instead.... however Please please remember to link your cards and not just your blogs!! FANKS!!
I found a few other great challenges to play along with too!
OK so over to you guys!!
have fun!