Well its Carol's Challenge at Top Tip Tuesday this time and her
Challenge for us is: Use a Sentiment Challenge
Carol has a Tutorial that you can going to want to see and well do!
It is a Word Book Tutorial so make sure you see that!
I am so happy to be on the
Top Tip Tuesday Team
For this Challenge I have made a little note book with only a sentiment
which I have layered with a scallop black nestie matt layer
then some mini paper hearts from my Martha Stewart punch.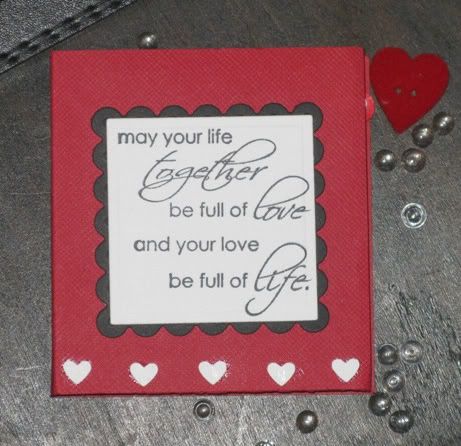 Tip: Stamp your sentiment on a larger piece of card and then trim to size
if you haven't got a stamp positioner, Then trim to size, or line up with your Nestabilitie.
I have also made a cute bookmark to go with my book.
Do you like the Cute Kasi Image?
Well if you do nip over to the
CDAC challenge and have a go the image is a freebie...
Thanks Gerda

The Bookmark is a Paper Clip so you can just slide it on the the page you want to save,
I have used distress inks to colour the Kasi and I just could not resist colouring him like a ginger tom... When I was a child I we had a ginger tom called Marmalade!
I added some white pen to the Heart to highlight.
I'm really pleased with how this turned out...
you guys really shocked me this week! WOW 427 entries! blinking heck!
I wonder can we beat that this week?
If you come and play then maybe we can!
Ok a few challenges I would like to join in with too!
Book
and last but not least I love your comments thank you!
don't forget my Teamies too!




hugs Samantha :0)