Having been pretty sickly for the last couple of weeks doing anything has taken me twice as long and 3 times the amount of energy!
But I wanted to get something done for the beginning of the year one being a new banner for the ABC Christmas Challenge, now I wanted to show my appreciation and thanks to the girls by making a new banner incorporating their work to as the last years banner was my own cards!
I asked them to show me their favourite cards they made from the Challenge from 2010,
Oh let me tell you they were very curious as to what I was doing..... Te hehehee! see I told you I was a little Naughty and a little nice! I told them I wanted to do something with their cards but could not tell them what! tehehheheeee so here is what I have made from the images of their cards!
I have now had time today to add the new banner so its sitting nicely at the top of the blog!
but here it is too so you can read the rest of the post here too!
If you would like to see it full size, you can click on this image.
I have made a new selection of all the badges
and If you love to follow our challenges?
then we hope you will love to display our new badge too!
which is now on the side bar
******
OK so moreeeeeeeeeee fabby news too!
Now we have a new ABC Challenge every 2 weeks so you still have time to enter our currant challenge which is Anything Christmas....
But next week 19th Jan we have a mega cool challenge
that is really gonna get your creative side flowing!
Mr
Dustin Pike
himself is Sponsoring us for B for..._____...
Come on you did not really expect me to tell you the Challenge theme a week in advance now did you?
but what I can show you is the awesome
sneaky peak!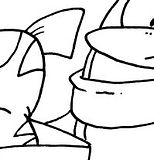 Let me tell you this image has been drawn by Dustin especially for the ABC Christmas Challenge..... How lucky are we?
And you! and I know you can only see a sneak peek.... but the image is Mega cute and totally awesome! I know!! believe me!
So all you have to do for now is
pop over to ABC and read the post there which is only a little different from mine,,,
Guess it would be as I wrote both! lol
If you wanna help us spread the word about this awesome challenge and that Dustin has drawn an image just for us then grab the sneak peek and pop it on your blog letting everyone know about our challenge.
Ok a little house keeping I am afraid:
If you were a winner of the blog hop candy and you have not claimed your prize yet
Please do so soon as can as you only have until 9am on the 17th to email us to claim your prize....at the ABC Christmas Challenge! then we will have to re draw the prizes!
My Christmas Candy News
I am sorry its taken me a little longer than planned to draw my own Christmas candy but I have used Random org to help me out and here is the winner
That's Kaz! well done hunny,
candy in the post tomorrow!
:0)