Welcome to my Blog!
I am so happy to be here today to tell you about our New ABC Christmas Challenge, Here we go staring again from the letter A....

Its funny really.....We have done a whole year (2010) of challenges and in some ways it only feels like a few weeks ago since we started but at the same time it feels like we have been apart of this great challenge for a long time too!

Now I can only thank my/our Design team for that!
They are an Awesome group of girls!
I was amazed at how many people joined in with the Z for Zero challenge and Blog Hop.... But you know what!
I think some of them are glad they did there were loads of goodies up for Grabs
Now we have Random pick all the winners and
guess who won mine
Number 25 that's you Clare.....
YAY!!
Clare if your reading this please email me hunny!
muffet1969@btinternet.com

OK so as I said we are now starting the first Challenge of 2011
and we are starting with A for Anything Christmas Goes
Nice and easy and a good start to your Christmas pile for 2011
Simon Says Stamp were an awesome sponsor for 2010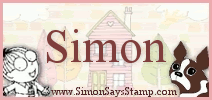 And Guess what! they are sponsoring us regularly throughout 2011 too!
Thanks guys!!
Shuuuush! let me tell you too we have an awesome line up of sponsors this year too! so don't miss your chances to win with us
*****
On to my card
I have used a lovely LOTV Stamp a Rak from Helen! thanks hunny
I have coloured the image with distress inks trying to make it look like fur
I have added stickles to his Hat and also to the card Candy.
I have faux stitched the edges and also added some distress stickles to the lace.
A little request from me too if you have word verification on please consider turning it off it doesn't protect your blog,comment moderation does that.
But the thing it does help is the DT.... it takes us some time to come comment on your blogs word verification makes it take twice as long....
So if you do turn it off thank you in advance!
Please also spare some time to visit the DT girls blogs they are here to help inspire you!
OK so now its over to you!
But let me ask you do you want to be ready for Christmas 2011??
If you just nodded and said yes!