Only 9 days left till the big guy arrives
with a mega huge super improved sleigh to carry all my presents!
(I wish) I have so much to do in what feels like only a couple of days.
It's my Challenge this time so I have chosen:
Z for ZERO time left!
All the planning and preparation,
Normally the stress would be setting in by now!
However I don't feel like that this year
its been so nice to enjoy the card making this year! and I have had time to try new things and make some crafty presents too!
Well by the time I got to the beginning of December I already had well over 60 Christmas cards made and this is thanks to Helen and I starting the ABC Christmas Challenge!
Thanks Helen for your Co support and friendship and also for helping me make a crazy idea work!
Also a big thank you to the Current DT girls who have every challenge made awesome projects
they also do loads of behind the scene work too! and we all work hard to leave all challengers comments this takes a lot of time and I really appreciate their efforts so thanks girls.
Thank you to those of you that have Guest Designed too!
Tanja and Paula you girls are great, very inspiring,
Its really difficult guesting and I for one really appreciate your efforts.
Then there is you guys ( The Challengers) some of you just found us and some of you have been here from the beginning! I really hope you continue to join us in 2011 too.
I know we have organised the challenges but I am really grateful for the challenge too.
So a huge thank you to everyone involved!!! including you guys for playing along :0)
OK so why did I choose Zero time left?
Because by the time this challenge has finished that is the time you will have left!
tehhehee!

So then!
The Challenge
To create a card or Project using a theme we have used already this pass year
and to create a new card or project by Reusing one of the themes

We also have a mega CHRISTMAS BLOG HOP!
with lots of prizes...

We are really lucky for this Challenge and Hop as we have 2 fantastic Sponsors!
Simon says Stamp who have been a monthly sponsor for the whole year!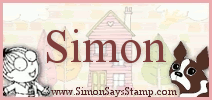 And the wonderful
Stamp Fairy
Stamp Fairy are sponsoring us for the first time as they are a fairy new company but their Digi images are so cute and well let me whisper in your ear.....We are going to be really lucky to be sponsored by Stamp Fairy in 2011 too! YAY!!
I had to have a long hard think about which challenge I wanted to use from all the fabby challenges we have have this first year of the ABC Christmas Challenges
and well me being me I could not choose just one so I have chosen
I don't know about you guys but every year I buy Crackers and every year I say I wish I had made my own as the ones you buy even the expensive ones are well (cough rubbish)
Soooooo this year being I have had more time decided to make my own!!
using Bo bunny papers its a really nice thickness and gives them lovely finish
with some silver and white organza satin edge ribbon.
Oh and some peel-off's that I have had I think since I started crafting! tehehehe
Inside the crackers:
Jokes.
Proper Cracker snaps that snap!! yay!
A tag and the number corresponds to a present that will be on hung on our Christmas tree.
oh and some sparkly berries and holly
The image is the cute Snowman George from Stamp fairy
to make a card as her Snowman is also mega cute!
I wanted to have a go at paper piecing a digi image as I don't recall seeing it done and wanted to try to do it! I am happy to say I found an easy way!
Adding pearls to her coat and glossy accents to the cute snowman's nose
adding torn card for snow and edging it with glamour dust to cover their feet Brrrrr
and my new favourite technique for the cuttlebug snowflake decoupage :0)
The Design Team have been busy with their Christmas preparations but they have also had time to play and have created a fantastic selections on inspiration for you! so while your hopping from blog to blog be sure to leave us all some comments
I'll tell you a secret some of us have prizes/candy too!
But Shhhhhush! I didn't tell ya!

Now I did say it was a blog hop too!
So you should of come from the
and Collected the letter

C
to get you started!
My letter for you to collect is - H
The next stop on our hop is the lovely
Melissa
where she has a fantastic project
for your inspiration and a letter for you to collect.
*************
I wanted to play these other challenges too :0)

PaperPlay
- Holiday Tag - This is the tag inside the crackers
Charisma Cardz -
A Christmas Gift - Crackers and tree presents
(can't show tree presents but the tag is the same)
Pile it on - Its all in the wrapping - think I have this covered too!
Stampavie
- Make a gift-
Crackers and tree presents
WOW! think that is a record for me... I really did pile them on!
Dear Santa I have been a little bit

Naughty

and a little bit

Nice

!
Please send me a lovely lot of challengers to play
thank you hugs Samantha :0)