Well this was suppose to post on Schedule while I was away!
but as you have properly guessed it didn't! doh!!
I have given Mr blogger a stern talking to and he says he's very sorry! so here is my lat but no to late post!
S is for Santa @ ABC Christmas challenge
Oh I don't think anyone can miss this our challenge its Super Special Santa Challenge te ehhe
Especially since
Squirrel
is singing too!
come on join in
He's writing his list
He's checking it twice
He's gonna find out
Who's naughty or nice
Santa Claus is coming to town
tehheheee!!!
The challenge this time is for
S for Santa
but the extra this time is
Not in Red!
Did you know the Real Santa (St Nick wore a range of colours before you know who the (soft drink firm) made him in Red for their adverts!
So I have chosen to make mine in blue
I also decided to see if I could make a little snowman bookmark like the little ladybird one I made a while ago so here he is.......
Our Sponsor for this challenge is ....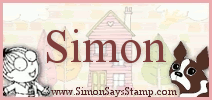 I am away right now so hopefully MR blogger has been a good boy and posted this for me
Hope you enjoy the challenge and I will have a peek at all your blogs when I get back!
have fun and don't forget to check out the rest of the
Girls DT cards.
***********
An update our the wedding stationary
By now the all our friends will have their thank you cards too! so I can show you what I made too
first job was to print some pictures,

for the front I made a montage with thank you added
the second layer is in gold dust card with a small heart (thanks for the tip Kaz)
and this is the section we wrote our note on
then the back layer has a small picture on too!