WOW what a fab responce for our first challenge thank you for all your support! what a lovely selection of A challenge projects too! and the support for the Christmas challenge blog is brilliant its better than I dreamed it would be! I love it when a crazy plan comes together! YAY!! If you have not found the ABC Christmas challenges you can find them
here
This week It is
Helen's
Challenge but I highjacked the post as I have a FANTASTIC announcement to make! te heheee
We are really lucky I asked
Lorraine's Loft
if she would be a perminant member of ABC Challange and as you know she said yes! but what you did not know is I asked her to DT for ABC Christmas too! and she said yes!! how cool is that! YAY! Thank you Lorraine!! On a serious note: Please check that your Word Verification is turned off,
so we can come and comment on all your lovely projects, maybe you might not even realise it is on? we are asking for you help because Word Verification is not protecting your blog if you want to do that then the best way is moderating your comments, Word Verification is just very time consuming for those wishing to leave you a comment. Thanks for your understanding :0) I will not be commenting on blogs that have it switched on. so if you have just turned it off give me a shout I would love to come see your creations :0)
OK OK OK
On to our Helen's
Challenge on ABC Christmas this week!
B is for Bells she has added Glitter
as the her extra challenge
This is my project to share with you hope you like it!
I have used:
distress inks
Penny black Hedgies
Glossy accents on the bells
Glitter DCWV older stash Oh my word sentiment Ribbon old stash Nec 08 Red Pearls Basic white card folded with Groovy Duo Look forward to seeing all your creations so hop over to
ABC Christmas challenge
to see the other Brilliant DT cards and grab your inspiration. and see what fantastic sponsor we have this time!!! Wooo hoooooo!!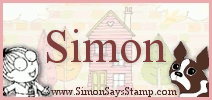 Oh and I forgot to say! I'm/we are offering an extra prize this week of a
Guest Design Spot
for the lucky 1st place of the top 3 entry! :0) sooooo happy crafting and get those bells ringing!